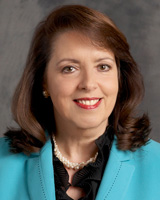 Anita Kotsovos
Real Estate
Sales Representative
Anita's Awards

Recipient of Lifetime
Achievement Award

Recipient of Titan
Award

Recipient of Chairman's
Award

Member of Hall of Fame

Prestigious Platinum Award
Member of 100% Club
Monthly Top 10 consistently
Certificate of Achievement

Philosophy/Mission Statement:
To provide the highest level of expertise in real estate for an enjoyable and stress free experience... Excellence is in the details

As a highly successful realtor with over 30 years of award winning experience in every facet of real estate, Anita understands the power of personal service. She has achieved RE/MAX'S Lifetime Achievement and Chariman's Club Awards along with the prestigious RE/MAX Platinum Club and Hall of Fame awards. She is an entrepreneur, mother, and passionate people person and has a perceptive ability to assess needs and establish solid relationships with positive results.

Anita is a skilled and intuitive listener. She is personally involved in each step navigating the real estate market easily and successfully while handling transactions from start to finish. People who have worked with Anita describe her as "warm", "genuine", "professional", "reliable", and "knowledgeable". Her personable nature and keen sense of humor have contributed to her highly successful business formula.

Anita and her family have lived in York Region for many years and she offers her clients personal knowledge about the area as well as the local real estate market. She knows the local amenities, schools, recreation and transportation in depth and believes that the best decision is an informed decision. Being able to contribute to the community through charitable events keeps Anita active in the areas where she works and lives. She is tenacious and understanding. She is a tough and skilled negotiator and a dynamic real estate leader.

Marketing, close communication with clients, and integrity are requirements that must be in place so that Anita can be the best realtor for meeting her clients' needs. Her love for real estate and passion for people allows her to provide the highest level of personal attention. Whether you are a buyer or a seller or both, you will find that the real people and real service get real results. Anita wants to earn your repeat business and referrals.

"You have to learn the rules of the game. And then you have to play better than anyone else." ~ Albert Einstein

What does this mean for buyers and sellers? They can trust Anita has all of the information, intuitive skill and years of experience needed to make the right choices for themselves.


Selling Your Home
While Anita has extensive experience in selling homes at all price points, including condos, for over 30 years, she has also been selling many of the more expensive residential properties in York region and her experience, knowledge and superior negotiating skills will increase your return.

Two of the most important factors when selling your home are marketing and ideal pricing. Anita incorporates a professional marketing campaign that includes local, national and world wide media exposure. Your home will gain effective exposure using expert photography, staging, and virtual tour along with full color feature sheets, and professional floor plans which enhance the positive features of your home. Anita will provide you with the listing and selling prices of homes in your specific neighborhood and will help determine the best price for your home. Your listing will be placed on MLS where it can be viewed by over 20,000 agents and also on the RE/MAX Global Network, for international exposure. Anita is available to answer your questions quickly and efficiently.


Buying Your Home
Finding the right home is both a personal and business investment. Knowing that owning real estate may be one of the largest and wisest investments one can make, it is important to have a dedicated professional who delivers quality service. When you begin looking at homes, Anita will help you assess the key components of your ideal home, such as location, price and size. Then she will show you all the best listings that meet your needs. After your initial visits, Anita will consult with you to revise exactly what you are looking for in a home. Finding the right home is important, and Anita is dedicated to getting it right. You will receive valuable insight into market comparables and trends of specific neighborhoods to ensure you are comfortable with your offer price. Anita will help you pick the appropriate closing date and conditions to ensure that the vendor accepts your offer, while always protecting your interests.

Anita has been helping her clients find their ideal home, at the right price, in Newmarket, East Gwillimbury and the surrounding areas for over 30 years and she hopes to bring all that experience to the purchase of your next home.

Contact Anita to find out more about buying a home.